How to sell on Amazon | Detailed explanation – Newbarcodes.com
"How can I sell on Amazon?" I've been getting this question from hundreds of people over the years. I think it's time to tell my experiences as a guide.
I started selling on Amazon in 2008 when I was a college student. In September 2013, I quit my full-time job and started earning more by selling on Amazon. Since then, I devote all my time to Amazon.
"How can I sell on Amazon?" I've been getting this question from hundreds of people over the years. I think it's time to tell my experiences as a guide.
I started selling on Amazon in 2008 when I was a college student. In September 2013, I quit my full-time job and started earning more by selling on Amazon. Since then, I devote all my time to Amazon.
During this time, I learned a lot about selling on Amazon. I even sold over $1 million on Amazon in 2018 and 2019.
In this article, I will tell you the tricks of making money by selling on Amazon. I will offer you free Amazon training, which is sold for money in most places. If you leave your questions and questions as comments, we will get back to you as soon as possible.
Beginning
First of all, let me explain what needs to be done to sell on Amazon and what kind of process it is.
Amazon is the world's largest e-commerce and retail site. It is the second company after Apple to exceed $1 trillion in value, and Amazon owner Jeff Bezos is the richest person in the world.
Millions of people can view the products you put on Amazon for a certain fee.
For example, let's start by examining the following screenshot.
1. Here it is stated that a company called ROLANDA is selling on Amazon. When selling on Amazon, you are referred to as a third party seller. When the customer orders the product, the seller appears as ROLANDA.
2. Fulfilled by Amazon also means that Amazon will pack and ship the product to you.
3. The phrase "Other Sellers on Amazon" on the right also indicates other sellers selling the same product.
4. You may have noticed that Amazon.com is not among the sellers. For many products, Amazon appears as the main seller. Generally speaking, if there is no Amazon among the sellers of a product, ROLANDA or any other seller will sell better. Because people prefer to shop directly from Amazon instead of dealing with a company.
When you sell on Amazon, your product is either in the buy box or in the other sellers section on the right.
Generally, 3 vendor names are listed in the other vendors section. If there are more than 3 sellers, the customer can click on this link and see other sellers selling the same product.
If we consider the game called Catan above, there are exactly 81 different sellers selling the same product.
However, the basic rule of selling on Amazon is that the customer clicks on the product link you offer. Although the algorithm here is not fully known, your price, feedback rate and post type (fulfillment) are the 3 most influential factors.
The shipping method (fulfillment method) is one of the most important elements to get maximum efficiency from Amazon. When you have Fulfillment by Amazon, that is, when you get Amazon assurance, your sales rate will increase considerably.
How Can You Sell in the USA with Fulfillment by Amazon (FBA)?
We said that Fulfillment by Amazon (FBA) is the ideal way to sell on Amazon. Now, what is FBA, let's analyze it a bit.
1. You find a product you want to sell on Amazon.
2. You add this product to Amazon and list it on the site. You set the price for the product.
3. You are preparing the product to be shipped in Amazon's huge warehouses.
4. Then you ship these products to Amazon's warehouses. You can ship more than one product in one package. Your only responsibility is to deliver the products to Amazon warehouses safely… You don't have to take care of packaging, either. Because Amazon will do the packaging on your behalf. If you want to sell 20 products, you put all the products in the same box and send them to the specified Amazon warehouse.
At this point, your work is done. Now let's see what kind of process is followed when your products reach Amazon warehouses.
1. It verifies the products you have sent, checks whether the products are damaged during shipping.
2. After verifying the products, it activates the product advertisement you have given to Amazon. This means that your product advertisement can now be viewed on the site.
3. Your products are kept in Amazon's warehouses until they are ordered.
4. When a customer orders your product, Amazon staff will ship the product on your behalf.
5. After the product is shipped, the price of the product is transferred to your seller account. Here Amazon makes its own cut. As your products are sold, you will receive an e-mail informing you of the sale.
6. Your money is deposited into your bank account every 2 weeks.
In summary, all you have to do is find products to be sold on Amazon and deliver them to Amazon. Amazon takes care of the rest of the process.
Which Program Should I Use to Find Products?
There are some programs currently used to find products. For example, the program called Jungle Scout is a program that helps those who want to sell on Amazon to make high profits and contains many features. Moreover, if you do not like the product, unconditional money back is possible.
Thanks to the program, it becomes very easy to find products with high profit margins. You can calculate the FBA fees and net income of the products you examine, and you can see which product is searched and how much with the keyword tool. The program also provides statistics for the products with the highest search volume, allowing you to identify trending products.
According to our reviews, the data is also quite accurate (over 450 million products on Amazon).
The Jungle Scout service includes:
450 million product database access
Unlimited research
Unlimited historical data
24/7 support
Access to Jungle Scout learning materials
Amazon Product Research Tool
Amazon Product Tracking Tool
Amazon Keyword Tool
Amazon Listing Optimization Service
FBA Calculator
Amazon Sales Estimator
Sales Analytics Tool
Inventory Management Tool
For membership.
What are the Benefits of Using the FBA Program?
There are certain advantages to using the Fulfillment by Amazon (FBA) program.
The first of these is the provision of free shipping to the customer.
In the screenshot above, the advantages provided to customers who are members of the Amazon Prime program are mentioned. Amazon has various services such as same day delivery, 2 hour delivery.
When you sell on Amazon with the FBA program, your products are subject to Amazon Prime shipping services. This means that customers will receive what you are selling the same day or the next day. Customers love the idea of ​​getting what they order for free, fast. It allows them to prefer products with fast shipping service provided by Amazon Prime, instead of products that are not included in Amazon Prime.
In addition to expedited shipping, customers know that the return policy for products sold through Amazon Prime is the same as for products sold by Amazon itself. So customers feel safe even when they buy products from a company called ROLANDA, not Amazon. Because ROLANDA has Amazon assurance behind it. In any unfavorable situation, Amazon customer service steps in and solves the problem in a short time. It goes without saying how far Amazon is in terms of customer service.
Customers are more inclined to buy your products thanks to Amazon's assurance. In addition, when you send 20 products to Amazon, these products are delivered to 20 different people one by one. In other words, you will get rid of 20 times the shipping cost by paying the shipping fee once.
Are There Other Options Apart from Fulfillment by Amazon (FBA)?
Of course, you have other options besides the FBA program. For example, there is also the "merchant fulfillment" option. When you make a sale in this option, you ship the product. Sometimes this seems more logical, but the FBA program is a 99% better option.
So it's good to have such an option in mind, but in this article, we will focus on the FBA program.
Now let's look at the step-by-step sales process.
How to Start Selling on Amazon ?
First you need to open a seller account on Amazon.
You can start by going to sellercentral.amazon.com and opening an account.
After clicking the Register now link, you can have a seller account within minutes.
How Much Does Amazon Cut?
After opening the seller account, you must download the application called Amazon Seller App. This free application offers you a lot of information about the sales process. Thanks to this application, you can find out the price of the product on Amazon by scanning the barcode of any product on your phone.
When you enter the Fulfillment by Amazon Revenue spreadsheet, you can research the products you intend to sell. You then price the item (red arrow) and learn how to ship the item to Amazon (black arrow). In addition, you can learn about the deduction Amazon will make from you for sales and how much profit you will earn from this product.
Thanks to this type of ruler, you can clearly find out how much profit you will make from the products you sell on Amazon.
What Can I Sell on Amazon?
To decide what to sell on Amazon, you can first start from your home. What kind of items do you often use in your home? What products do you have in your home that you never use?
Another option is to buy in bulk at a low price from a wholesaler and sell it on Amazon. Your main goal here should be to buy a product for less than the selling price on Amazon and put your profit margin on it and sell it on Amazon. In the most basic sense, this is called retail arbitrage.
One of the best ways to start selling on Amazon, retail arbitrage has a low initial investment, which is to your advantage. Once you know the process better and understand Amazon better, you can try other methods.
To learn about retail arbitrage, you must open a seller account and log in to the Amazon Seller App. Here you can find additional information indicating whether the product is worth selling.
Afterwards, you should go to a big market and shopping mall and visit the end-of-season, liquidation products section in detail. For example, in this example, Walmart's end-of-season section is visible. Here you can open the Amazon Seller App and read the barcode of the products.
When you scan the barcode, such an image comes to your phone.
Here you need to pay attention to two things. First of all, you should make sure that you can sell this product under the assurance of Amazon. You should also find out how this product rank in the Amazon toy category. (#60 at top left)
This product is ranked 60th in the toy category, which is a very, very good rank. This row offers very important information about how quickly the product can be sold.
However, you may not always be able to find such a popular product. That's why you should try to sell items with a rank lower than 250,000 on your first sale. As you gain experience, it will be possible for you to choose more successful products in this regard.
If the app says you can sell this product and the ranking is lower than 250,000, you need to check how you will earn when you sell this product.
For this, when you enter the "gross proceeds" section on the top right of the application, you will see a screen like this.
On this screen, after determining your product sales price, you can learn the price you will pay for 500 grams of cargo and how much you will earn from this product.
There are 2 things you need to check at this stage. First, whether your net income is higher than the earnings threshold you set. We generally recommend that you can earn upwards of $3 per item. This means that it doesn't make much sense to sell products that will make a profit of less than $3.
If the product provides a return above your earnings threshold; that is, if the product you buy for 10 dollars will provide you with a profit of 7.13 dollars, it means that you will gain 73% from this transaction.
When you start selling on Amazon, it is always good to have this ratio above 50%.
In this example, the game CATAN is an ideal product to sell on Amazon. So you can buy this product from Walmart and sell it on Amazon. It is seen that there are 6 of this product in the aisle. You can buy 6 games for $60 for $10 each.
It is important that you repeat this process for many products. The more you do this comparison and research, the more experience you gain; You will have a better understanding of what goes better on Amazon and what makes a profit. You can also find out that some products are not eligible for resale on Amazon with the Amazon Seller App.
Things to Consider When Choosing a Product to Sell on Amazon
There are many things to consider when looking for products to sell on Amazon. Now let's look at this issue in a little more detail.
1. Don't Just Focus on Demand/Sales Ratio
It's normal to get excited if you find a specific product that sells thousands in a month. But the demand/sales ratio is only part of the big picture. In addition, you need to pay attention to issues such as competition, cost, periodicity, profit margin.
For this, you should also look at the opportunity score of the product you are examining. While you are looking for a product to sell on Amazon, the add-on you will install in Google Chrome shows the opportunity score of the product. Items with a score higher than 7 are ideal for selling.
2. Read Product Category Terms Well
You have found a wonderful product. You want to sell this product on Amazon and break a lot of money. Wonderful!
But there may be some restrictions in the category to which this product is subject.
For example; The dangerous product category is a category that Amazon attaches importance to. Because thousands of lawsuits are filed against Amazon for the products sold here. Therefore, you need to get permission/acceptance from Amazon to sell products in this category. Cosmetics, food and even toys can fall into this category.
Therefore, before you procure the product you want to sell and send it to the Amazon warehouse, list it on Amazon. Investing in a product that you are not allowed to sell on Amazon may result in losing money.
3. Pay Attention to Seasonality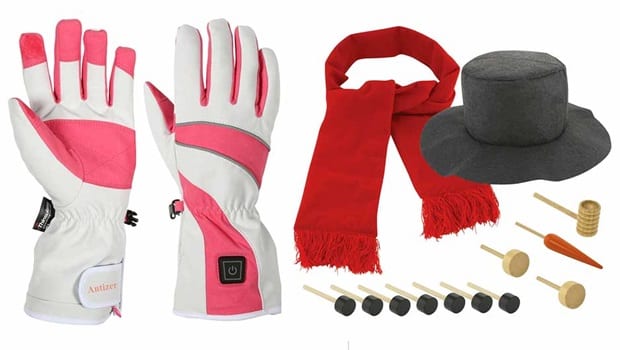 When reviewing a product to sell, don't just focus on the sales figure. Also, do not forget that products specific to the summer season or winter season will be sold more in these seasons. For example, if you sell snow tires on the 15th of June, you won't be able to sell much until at least October.
You can sell products that sell more in certain seasons on Amazon, but it would be better if you sell products that are in demand for all 4 seasons, so that your earnings are balanced.
4. Don't settle for just one product
When you sell with a certain brand name on Amazon, you are establishing a brand in a sense. In other words, it may not be enough to print the logo and brand name on the products you buy from China. In addition, you should gain a certain customer base for your brand and offer them various products.
When you start this business, maybe one product will be enough, but in time, you should try to increase your product range and offer different options to people in order to grow your business and income.
5. Follow Your Competitors and the General Landscape
One of the most common mistakes when selling on Amazon is to find a product that comes to mind and list it on Amazon, then stop being interested in that product and focus on other products. But the Amazon is an ever-changing organism. You cannot know for sure what will happen to the products you send to Amazon within 30-60 days. That's why you need to constantly monitor the status of your products.
I had decided to sell a watermelon cutter. I had this product made in a plastics workshop. However, 200 sellers who sold similar products to this product during the construction period sprang up on Amazon. But I was able to take the necessary precautions because I checked whether that product entered Amazon or not. I decided to sell these products at a local grocery store, not on Amazon. If I were to ship these watermelon choppers to the Amazon warehouse and I wouldn't be able to stand out from the 200 sellers.
In other words, it is of great importance to closely monitor how a product performs on Amazon and how many sellers sell this product. Otherwise, you may spend money for nothing and risk investing thousands of lira in products that are very difficult to sell.
6. Be Unique and Attractive
A few years ago it was pretty easy to find specific and niche products. It was a pretty good method to sell the products that successful sellers were selling. It was a very profitable business to procure these products and sell them under your own brand name. For this reason, there were many duplicate ads on the first page. Of course, this situation did not work for Amazon, so it changed its algorithm.
Amazon's new A9 algorithm takes care of the differences when ranking products and pushes the same ads back in the ranking.
When doing product research on Amazon, make sure that what you are selling is recognizable. At this point, Seth Godin's "purple cow" example can give you an idea.
Let's say you're driving on a city road. You saw a black cow on the road and said "Oh cow". However, when you see more than one cow along the way, your selective perception towards cows gradually disappears.
But you saw a purple cow among the black cows! You've never seen anything like this before in your life! In such a case, you would probably pull the car to the right, take a photo of the purple cow, and even take a selfie with this purple cow and upload it to Instagram.
Here's how you should sell such products on Amazon. People should get excited when they see it and send the link of this product to their friends…
7. You Are Not The Only One To Find The Right Product
Sometimes you may think you have found the most amazing product in the world. But wait a few weeks before investing in this idea. Watch the overall picture and regularly monitor the status of the product on Amazon.
If you don't mind, I will give the example of a watermelon chopper again…
If I hadn't followed the product and waited a few weeks, I would have seen that the watermelon cutter, which I thought was the coolest-most viral product of Amazon and the world at that time, was sold by 200 people other than me. In other words, everything was going to explode in my hand.
I agree that Amazon makes good money on business people, but you can't get rich overnight with just one product. Not those in a hurry in Amazon and business life; those who are patient will succeed…
8. Is It Profitable to Sell on Amazon? How to Track Investment/Earnings Ratio?
Be selling 100 products a day on Amazon. However, if your profit margin is too low, it will take too long to get your return on investment.
Let's compare the $12 apple chopper and the $50 bamboo salad board.
At first glance, the apple cutter looks better, doesn't it? You earn $12000 when you buy 1000 apple cutters per month. When you buy 50 bamboo boards per month, you earn $2500.
Apple Chopper
An average of 1000 apple cutters are sold in a month.
One of them costs you $3.
For 3 months of sales, you need to buy an average of 3000 apple cutters. This will cost you $9000.
An apple cutter on Amazon sells for an average of $12.
Amazon takes a 15% deduction and charges $3 for shipping.
At the end of 12 months you will earn $14400 from the apple cutter.
Amazon deduction, cost etc. Then you get a total of $7200 in cash.
In other words, the return on investment is 80%. Not bad…
Bamboo Salad Board
An average of 50 of this product is sold per month.
Unit cost is $10.
150 bamboo boards are needed for 3 months sale. The cost of this is 1500 dollars. However, you can send at least 200 of this product. Therefore, you have to spend 2000 dollars for 200 products.
The average selling price on Amazon is $50.
You have to spend 20% of the sales price for advertising.
Amazon cuts 15% and charges $7 shipping.
You get $30,000 from this product for 12 months.
When things like Amazon deduction, shipping, production cost etc., you get a net $ 9330.
The profitability rate of the investment is exactly 465%!
Now tell me, is it 80% profit? 465% profit?
Of course, bamboo cutting board is a product that should be preferred by far. You earn more and invest less. In other words, the less money you tie, the more money you earn.
A tip for you: Try to sell products that will earn at least 4-5 times the initial investment…
9. Develop an Advance Marketing Strategy
Marketing is a huge factor in your sales on Amazon. Focus on marketing while researching products to sell.
Amazon's cost-per-click advertising implementation is pretty good. It is simple, stylish and inexpensive. Considering the return of your advertisement on Amazon, it is almost free. However, it would not be right to put all the apples in the same basket.
If you want to be successful on Amazon, you need to market outside of Amazon. Some of the successful strategies for this are;
Promoting your product through Kickstarter and crowdfunding sites,
To use social media and especially Instagram efficiently and effectively,
Sending your products to famous vloggers, Youtubers and influencers and allowing them to share with their followers,
From time to time, gifting this product to your followers for free…
10. Take Action Immediately
The last and most important point: Take action! This may intimidate you, as you are a drop in the Amazon ocean. But you can't achieve anything without taking action.
While I was doing Amazon product research, the manufacturer from whom I bought the bag said that the type of leather I wanted was gone and replaced it with another type of leather. This incident came as a huge shock to me at the time.
But I decided to keep going and not give up. I received the bags, so I sent them to Amazon warehouse. In exactly 5 days, I amortized the money I paid to the manufacturer and started making a profit. It may not have been my most lucrative sale, but it was still important as an example to keep me on Amazon.
Therefore, persevere until you sell your first product. Then you will enjoy this job and earn money!
How Can You Price the Products You Will Sell on Amazon?
You also need to decide how to price the products you decide to sell. When selling with the Fulfillment by Amazon (FBA) program, it would be better to set prices similar to those of sellers using this program.
Let's examine the example below. (Click on the photo to enlarge.)
To access this screenshot, you must view other sales postings for the same product. To do this, simply click on the "used & new" section. # indicates how many sellers have sold the same product.
In this example, we've listed Amazon Prime-eligible and brand-new products. We recommend that you filter the product you intend to sell according to its condition and shipping condition. In other words, if you are going to sell a second-hand product, you should look at the second-hand prices of the same product.
In the example above, if you want to sell quickly, you should price between $41 and $41.41.
We do not recommend setting a lower price than your competitors when pricing products. Because this situation causes competitors to reduce prices, which quickly reduces the profit margin for this product. So you cut the branch you are on…
If you want to follow an aggressive method, you can choose the lowest price determined for the same product.
If you do not want to follow an aggressive method, you can set a price 1% higher than the lowest price for the specified product.
In this example, you can set a price between 46.52 and 49.95 if your product doesn't need to be sold immediately. If the product you are going to sell has different price ranges, it would be better to set a price towards the upper band of this difference.
As you gain experience on Amazon, you will become more proficient in pricing, but this information will be a good start for you.
How can you send the products you will sell to the Amazon Warehouse?
You found the products to sell, you opened an Amazon seller account…
Now it has come to ship these products to Amazon warehouses.
Amazon FBA is literally a logistics giant. Billions of products are stored in warehouses in many parts of the world, and when these products are sold, they package, ship and invoice.
Amazon FBA can have two types of costs to sellers. These are divided into two: the size of the shipment and the duration of its holding in the warehouse. In the first, the type, size, weight of the product play a role. In the second, the duration of the product on Amazon shelves is effective. In addition to the standard fee, there may be an additional charge for items remaining in Amazon warehouses for more than 6 months.
So how does this process work?
First you have to login to your Amazon seller account and follow the steps below?
You click on "Manage FBA Inventory" from the Inventory section.
Then you click on the "Action on 1 selected" statement.
Then you click on send/replenish.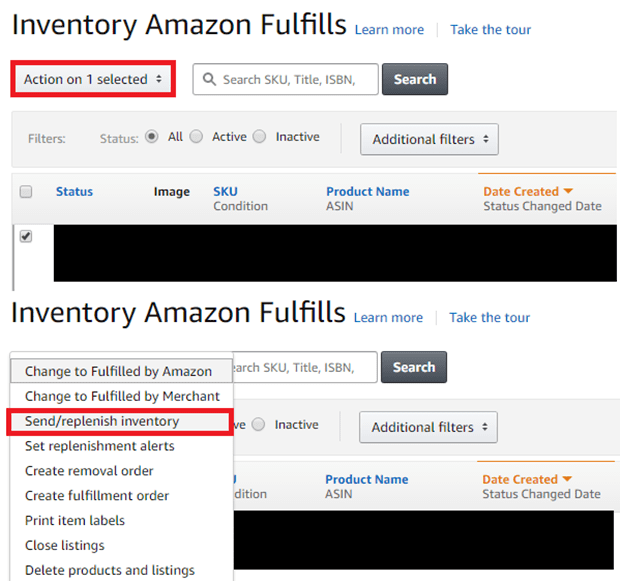 If your product is listed on Amazon, all you have to do is click "Send Inventory". Thus, the process of sending the product to Amazon warehouses officially begins.
When you reach this screen, make sure that the "Create a new shipping plan" option is selected. In addition, if the phrase "Case-packet products" is selected, it is possible to send more than one product in the same package.
Continue the shipping process by clicking Continue to shipping plan.

On the next screen, you will be asked to enter the amount of products you will send to the Amazon warehouse. If you are going to send 10 phone cases in a box, you should write 10 for "Units per case" and 1 for number of cases. So 10 products in 1 box…
Now it's time to prepare the products. You should put the products in a polyethylene bag. You can learn how to do this by watching the video below.
After preparing the product correctly, you can continue. Now it's time to label the product. You can do this at home or leave it on Amazon, but they will charge you a fee for this. If you want Amazon to do this, "Who labels?" Mark the statement as "Apply to All". You can watch how to do this below.
Stick the printed labels on the products. Then read these barcodes with the barcode reader and make sure they are working properly.
After giving your shipment a name, you can confirm the shipment by saying "Approve shipment". Your post has been created. You can edit the details by clicking "Work on shipment" on the next page. UPS or Fedex options appear here. You are asked to answer questions such as whether the entire product is in a single package or each product is in its own package. You need to write how many kilograms the product weighs and its dimensions. After entering this information, you can complete the whole process by saying "Confirm".
Then you need to calculate the shipping fee according to the information you entered. By declaring that you accept the terms and conditions, you pay the shipping fee to be deducted from you for the product "I agree to the terms and conditions". You have the option to cancel this payment within 24 hours.
Then you need to stick labels on the top of the boxes. Your package should look like this. So there should be labels in the black areas.
At this point, there is nothing left but to send the product to the specified Amazon warehouse.
Result
In this article, we've covered the most basic things you need to know to sell on Amazon.
If this idea has crossed your mind, there's no reason not to try it. You can try retail arbitrage strategies and sell different products.
But above all, you need to have realistic expectations. You should try to understand the system and gain experience without dreaming of getting rich overnight.
If you spend a lot of time on this job, move slowly and know more about Amazon's system, it is quite possible that you will get a lot of money for your effort…